Tracey Fields – President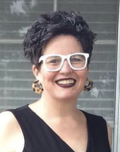 My family lives at 1506. We have been residents of Park Street for 12 years. My husband, Greg, and I have been married for 24 years and have 5 children. We are members of Crosspoint Fellowship. I love our neighborhood and am looking forward to meeting each of you!
Rebecca Ballard – Vice President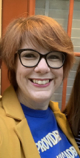 I am wife to John, and mom to Audrey (15) and Darby (12). I teach part time at Providence Christian Academy her in Greenville, I'm active in my church, St Paul's, and in the community, and love all things French. I'm looking forward to getting to know everyone.
Travis Hayes – Treasurer

Hi, I'm Travis Hayes and I live in the Circle House. I live with my partner, Robby, and our dog, Whisper. We are both in education and I currently work as a first grade teacher in Princeton. I am so blessed that I get to serve our amazing neighborhood as your Treasurer this year. I look forward to getting to know each and everyone of you.
Jana Rose – Secretary

I am a wife to Carly, and mom to Levie (11) and Abigail (8). We own a photography and video business. My husband and I are both artists, and very active in the arts of our community. I love all things art! Our door is always open and I am looking forward to getting know everyone.